I'm always on the lookout for a great facial sunscreen.  My favorite ones are mineral sunscreens because they tend to feel almost invisible on your skin. They also do a great job protecting with natural sun blockers like zinc and titanium dioxide.
ZENMED recently released their new Mineral Sunscreen SPF40 and I was very excited to try it.  Here is my review of the product.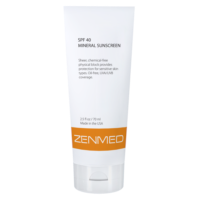 Details:  Mineral Sunscreen SPF 40 comes in a 2.5 ounce tube and currently costs $34.95. There is bulk pricing for ordering 2 or more tubes.  It is available on their website.
Color and Scent: Mineral Sunscreen is naturally white in color, with no added color in the mix.  It has the slightest sunscreen scent, but nothing overpowering and the scent goes away very fast. Within minutes, we could no longer smell anything.
Texture: The sunscreen has the thickness of a facial moisturizer.  It spreads very easily and does not leave your skin with the white hue that zinc can be known for.  It is completely invisible once rubbed in.
Look and Feel: The sunscreen takes a few minutes to get to that "almost invisible" feeling on your skin.  Initially it feels hydrating to your skin, like when you put on a facial moisturizer.  That makes sense, because it has some great hydrating ingredients such as argan oil and jojoba oil in it.  But after about three minutes or so, your skin is left feeling and looking matte.  No greasy feeling whatsoever.
Do I Still Need a Moisturizer?  If you have very oily skin, you might be fine with using this product as a replacement for your moisturizer, but for the majority of people, we would suggest using a daily moisturizer alongside Mineral Sunscreen. Moisturizer first, sunscreen second, makeup third.
Something We Love About Mineral Sunscreen:  We love how this product spreads easily on the skin.  Sometimes with mineral sunscreens, it's almost like the product soaks in too quickly and you're left hoping you put on enough. Or you put on more, just to be safe. But sunscreen isn't cheap! Because it takes a few minutes for Mineral Sunscreen to fully get to the matte stage, it's easy to be sure you didn't miss a spot.
Don't Forget to Reapply: Sunscreen must be reapplied throughout the day. We recommend reapplying every 1 ½ to 2 hours, and if you have very fair skin, even more often than that.
Ingredients:  Titanium Dioxide, Zinc Oxide, Purified Water, Certified Organic Aloe Vera Juice, Capric Caprylic Trigylcerides, Ethyl Hexyl Palmitate, Glyceryl Stearate, Vegetable Glycerin, Cetyl Alcohol, Argan Oil, Jojoba Oil, Vitamins A, B5, D3, E, Allantoin, Coenzyme Q10, Magnesium Aluminum Silicate, Hyaluronic Acid, Ethylhexylglycerin, Benzyl and Alcohol.
Related articles